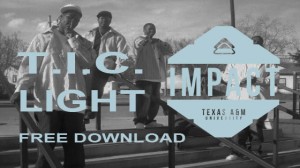 If you listen to Christian rap you owe it to yourself to listen to this track by Troops In Combat.  Troops in Combat, also known as T.I.C., is comprised of Big T, CD, B-Good, and Lil Dre.  You may have listened to T.I.C. before if you downloaded their free mixtape that I posted last year.  Last year they wrote and recorded this Christian Rap track for Impact Retreat.  I meant to post it after the last retreat in August but it was lost in the pile (that seems to be happening a lot lately and I apologize).  Feel free to download the song below and share it with your friends.  You are free to use it in your videos also, but please link back here so others can download the song.
____________________________________
:: Download T.I.C.'s New Single "Light" ::
Download: TIC Light MP3
____________________________________
Expect more songs from T.I.C. in the future.  The group is currently working on a new CD that will be released later this year.  You can follow Big T on Twitter for updates.
If you would like more royalty free music, check out my list of royalty free music sites that offer songs that you can use in Youtube and Vimeo videos for free!