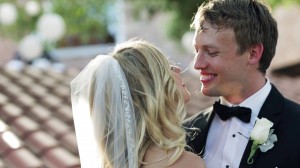 I feel like half the weddings I post are of people that I met through Impact Retreat at Texas A&M.  Thankfully, there are only a couple hundred more people that I know because of Impact, so I should be done posting Impact weddings somewhere around the year 2060.  With that in mind, I met Jeremy through Impact was back in 2010 when he was co-chair for the orange camp named Gad.  He was the cool guy that worked at Olive Garden, and if you watch the video above, you'll know that Olive Garden is how he met Jourdan.
Filming their wedding day was completely awesome.  Jourdan and Jeremy embody the laid back, relaxed kind of couple that I love to film.  I had fun, they had fun, and they weren't afraid to laugh at themselves when they do things like struggle to fit the ring on to Jeremy's finger.  Can we talk about their toasts too?  You know when the dad pulls out six pages of typed material (single spaced!) it is going to be good.  The toasts, combined with Jourdan and Jeremy's laid back personalities made telling the story of their day easy.
Interested in having me film your wedding?  Please contact me!