I met Dustin while filming a Fightin' Texas Aggie Football game two years ago. He was a pretty cool photographer and we bonded over shared excitement of having field passes for football games. Last year, his fiance Kelli emailed me about filming their wedding in December. After a few emails back and forth I made the connection of who she was marrying and immediately got even more excited about filming their wedding.
The two of them together make for one of the more goofy and laid back couples that I've filmed (which I prefer). The entire time I filmed Dustin I was laughing at something he did or said to his groomsmen. Kelli provides a balance to Dustin's humor while trying to be serious in some moments but totally giving in to his jokes the next. Their personalities mix perfectly.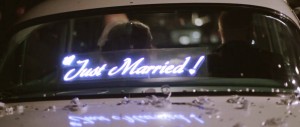 Kelli and Dustin were married at The First United Methodist Church, in Temple, Texas. But, I'm getting a bit ahead of myself because they let me film their rehearsal dinner the night before at Peacock River Ranch in Gatesville, Texas. They really went all out on this rehearsal dinner too – there was dancing, s'mores, amazing food (with queso), and redneck wine glasses. Their wedding day was amazing as well. First United Methodist Church is a historic landmark and has some of the best architecture at any wedding I've ever seen. Amazing stained glass with a round auditorium made for a unique ceremony.
It was great meeting these two love birds and getting the chance to tell their story.
Please download the video below and watch it in HD, the film grain I put on it looks much better without web compression.
Interested in having me film your wedding? Please contact me!