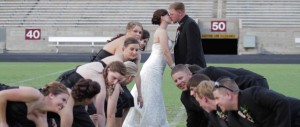 I have a list of fun places I would like to travel to when filming a wedding. One that requires no traveling at all is Kyle Field in College Station. I'm not saying that the couple actually needs to get married on the 50 yard line, but taking photos there would be cool. Last June my wish came true and I was able to film Ashley & Boone's wedding. The emails started like most of them, with her telling me they would be married at a church, but then things got crazy when she told me the reception would be at the Kyle Field Zone Club. And they would be taking pictures on the field, and the groom's cake was a replica football field, and the garter would be wrapped around a football when he threw it. Okay so I didn't actually know about the garter, but I really shouldn't have been surprised.
Slightly more seriously, I hope this wedding conveyed how much Ashley and Boone were waiting for this day. As the minister said, they were together for a long time, and had both grown a lot. They realized that together they were better people, and they wanted it to last forever.
Cross Kyle Field off my bucket list (but seriously, if you're getting married and having part of your wedding there I will gladly film it again), now all that is left is Hawaii, New Zealand, a mountaintop, Antarctica, and Germany to name a few locations.
Interested in having me film your wedding? Please contact me!