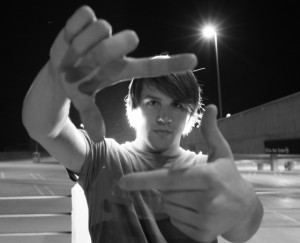 Third person bios are very professional, but I'm still young and like to have fun so I'm forsaking professionalism and will admit that I am writing my own "About Me".
It is my belief that everyone has a story to tell.  An unseen epic that they themselves may not even be aware of possessing within them.  This masterpiece of a tale consists of their thoughts, ambitions, and dreams.  Sometimes glimpses of their stories are caught up in obvious mediums such as their writing, drawing, or musical ambitions, but for many people, the story has been hidden.  Popular axioms such as "It is time to grow up" and "Don't rock the boat" have removed much of the ambition from our lives.  Settling down with 2 1/2 kids and in a suburban middle class neighborhood with a minivan has become the "American Dream".  We are called to more than that.  As much as stark professionalism has attempted to quash these dreams, I can't help but believe that everyone still has them, even if they are hidden.  Call me an idealist if you must, but I am a storyteller, and I would love to help you tell yours.  The medium that I use just happens to be film, and the purpose of it all is the glory of God.

So Who Am I?  That's a good question.  I'm Matt, and this is where you will find the stories that I have captured.
I've filmed a lot of things since I received my first video camera back in my sophomore year of college (circa 2006).  My parents surprised me with a  Sony DSC-S90 handheld digital camera that happened to have a video function.  Since then, I was hooked and filmed everything.  The year 2007 hit and with it came a proper video camera.  The Sony HDR-UX1 is a "prosumer camcorder" but really helped cement my desire to film for the rest of my life.  It was on the HDR-UX1 that I filmed "Why I'm An Aggie" – the video that landed me my first film internship and many other independent video works for Texas A&M student groups and services such as Aggie Dining Services and Fish Camp.
Resources
I get a good amount of email with many of the same questions, so I thought I would share them here.

What kind of camera body do you use?
For all of my current projects, and projects for the foreseeable future, I film with a Canon EOS 7D.  It produces PHENOMENAL video files, variable frame-rates, and stellar low-light capabilities.  When I want to use it for photography, the 17 point auto-focus system is a dream to use.

What lenses do you use?
I shoot mostly Canon lenses and when possible I shoot primes.  During weddings, I alternate between Zoom Lenses for quick variations when I need to get shots that count.  For video, IS is extremely helpful especially when running around at a wedding, so I highly recommend the extra dollars it costs.  For night shots, the prime lenses live on my camera because they are faster and offer larger apertures.  Video can't get by with flash and when shooting events it is generally frowned upon (and not making the best use of time) to setup studio lighting so high speed lenses are a must.  The added bonus of an increased depth of field and enhanced attention to the subject being filmed is great.

Fixed Lenses:
Canon FD 28mm F2.8

Canon FD 50mm F1.4


Canon FD 50mm F3.5 Macro
Zoom Lenses:
How do you record that crisp audio in your videos?
I record all audio with the Zoom H4n.  It is a wonderful (almost magical) little device.  Four channel recording in the palm of your hand.  It works great at weddings when I need to record both the bride and groom as well as ambient audio all at the same time.  When filming other live events, the dual XLR and 1/8″ inputs mean I can basically adapt to any soundboard configuration for recording.  The h4n also has a 1/8 screw adapter on the bottom that lets me use an NRG hot-shoe mount to attach the h4n directly to the camera.  This comes in handy when I need to travel light and still want high quality audio.

For wireless on-person audio I use a Sennheiser G3 Wireless Lapel Microphone System.  It has superb range and excellent sound quality.  When I film weddings I attach this to the groom to record the vows and minister speaking.
When I'm shooting a short film or video that I don't want a microphone to be in, I use a Rode NTG-2 Shotgun Microphone paired with a WS-6 Windscreen.  If I'm stationary I usually attach it to the camera hot-shoe with a Pearstone Shock Mount.  It offers excellent directional audio and no hiss.  The Zoom h4n also has phantom power capabilities so I don't have to power the NTG-2 with batteries.
As far as boom poles go, you could either spend nearly $1,000 on a fancy carbon fiber boom pole, or you can go the route I did and buy a painter's pole on Amazon (I bought a shure-line 9 foot pole) for around $30 and then find a Painters Pole Camera Adapter.  This allows you to directly mount your shotgun microphone directly to the painters pole.  Voila, I just saved you $1,000.

What kind of memory cards do you use?
For the 7D I use Sandisk compactflash memory cards.  They have never failed me and offer a great write speed so I can keep recording for as long as the camera will let me.  I currently use 16gig cards but will increase in size as technology advances.  I backup everything to a netbook after filming and then when I arrive home everything is backed up on multiple drives, blu-ray discs, and online.  I'm big on backing up and saving things.
Do you have back up equipment?
DEFINITELY!  I have an entire post dedicated to my backup strategy.  After filming any event, everything is backed up to multiple hard drives.   When I arrive home everything is backed up across two Western Digital 1TB Black Drives, an 8TB DROBO, and 8TB G-Technology G-Speed Q Raid.  All my footage is also backed up online using Crashplan.  Redundancy is key!

What is your workflow for editing video?
That could be worthy of a post all to itself!  I edit all videos in Adobe Premiere Pro CS6 so when it comes to editing video from the Canon 7D or any other Canon DSLR for that matter, I can edit the footage natively without transcoding it into a different file format.  For all video files that I have to transcode I use MPEG Streamclip.  It's free and extremely versatile.  Before I discovered MPEG Streamclip I used SUPER video encoder.  It works well but is overwhelming in complexity at times.

What program do you use to color your videos?
I tend to shoot my videos with the 7D using Technicolor's Cinestyle picture setting.  This offers a wider range of colors to be represented in the final video and keeps it from looking too "contrasty".  When I'm not using Premiere or After Effect's built in coloring tools, I utilize Red Giant Software's Magic Bullet Looks.  It is worth every penny – the ability to exactly customize the feel of a video is amazing.  It is also much easier to go back and make changes than if using Apple Color.  If I'm dealing with consistent footage (or a video blog for example) I can have everything colored properly in a few clicks.  Fine tuning is incredibly simple and intuitive too.

Who do you host your website through?
Bluehost.  They offer unlimited bandwidth and storage for cheap.  Just what I need considering that I go through Gigs of bandwidth each month with people downloading my videos.
Where do you buy your equipment?
For video and photo equipment I usually use B&H Photo and Video, Adorama, and Amazon.  For all my computer needs I use Newegg.
Where are you located?
I'm located in College Station, Texas, but willing to travel anywhere for a film shoot.
What is your email/how can I contact you?
Your best bet is to  contact me and fill out the form.  All messages go to my email address that I check multiple times daily.

Why do you post videos to both "xfu510nx" and "whoismatt" on YouTube?
When I created my account in late 2006, I didn't anticipate making many videos to put online.  I found out I enjoyed doing it and have been doing it ever since! An unfortunate side effect of not anticipating this resulted in the username "xfu510nx " or as you could pronounce it "xfusionx" or just "fusion".  I eventually came up with the name for this site with the help of a friend and things have really taken off.  You can see my old blog at http://fusionfilm.blogspot.com .
In 2010 I acquired "whoismatt" on YouTube and began using it for posting the majority of my videos.  Username consistency across websites is key!

What other sites are you on?
*I'm also on multiple other video sites scattered randomly across the web.  Youtube and Vimeo is where you will find all of my videos though.
Why did you make this site?
Creating and editing videos is one of my passions and the Internet offers the best medium for me to express myself.  I hope you enjoy watching my videos as much as I enjoy making them.
What is your religion?
I'm Christian by name and by life.  Saved by grace through faith.  I'm nothing without Jesus!
Is there any way that I could get you to make a video/website for me?
Sure thing.  Just contact me and we can see about designing the perfect site for you!
I'm having difficulty viewing one of your videos that I downloaded. (For Example:  The  Video will not play, or there is just audio with no video)
I used to encode my videos using the Divx Codec and if you do not have it installed on your computer it may not play the videos properly.  I would recommend downloading VLC media player , which will be capable of playing pretty much every single audio or video file that you can throw at it.
Now, all of my videos are downloadable in a high definition MP4 format.  I chose MP4 because it is currently the standard for online video and offers the best file size t0 quality ratio.
I love watching your new videos but I'm really lazy and don't feel like checking it all the time.  Is there any way that I can get updates without having to check the site all the time?
Of course!  If you use an RSS reader such as Google Reader, you can receive updates from my RSS feed!    Or, use the box on the right to subscribe for email updates.

When did you first upload to Youtube?
September 29, 2006 at 4:22PM
How many video views do you currently have?
As of November 21, 2008 I currently have 2,669,184 views.  This number increases anywhere from 3,000 to 12,000 views per day.  For a better idea you can check Tubemogul .
Which of your videos is the most popular?
A short video that I created of some of the rabbits my family raises when they were three days old.
What's your favorite video that you have made?
I would have to say that this changes every time I create a new video.
Is that your real phone number you had posted on YouTube?
It was for a while.  I used Google Voice to create a phone number that would redirect to my real phone number.  Over the 6 months that the number was active, I received somewhere around 10,000 calls.  I still have about 2,000 unlistened to voicemails in the account.  Thanks for calling!
Do you use Affiliate Links?
Yes, I'm required to state by Amazon that "Matt Johnson is a participant in the Amazon Services LLC Associates Program, an affiliate advertising program designed to provide a means for sites to earn advertising fees by advertising and linking to Amazon.com."  It's a great program and it is a big help to me when you use any of the above product links to Adorama, Amazon, and B&H and when you get anything. It costs you nothing, and helps me keep my site running. I have bought from all of these websites and I highly recommend them for their service, quality, and shipping speed.  I recommend them all personally.